Strengths:
Roquan Smith isn't a big thumper, but man is he fast and man does he have excellent instincts. If you want an off the ball linebacker that can play sideline to sideline, play in coverage, and be a great run stopping linebacker, Smith is your guy. If his speed doesn't wow you his football IQ definitely will. The Georgia linebacker shows on a consistent basis his smarts when fighting through traffic, taking on and disengaging from blocks, and shooting the right gaps to bring down ball carriers. A good wrap up tackler who can lower his shoulder and lay the wood as well. Played a lot of special teams at Georgia too, scouts and general managers will love that about him. While Roquan Smith does do an excellent job of filling his own stat sheet, he helps other players around him by taking on blockers to clear holes for other defensive players to make tackles. Smith has the speed and football smarts to be an elite three down linebacker at the next level.
Weaknesses:
The few weaknesses that Roquan Smith has, he can't help. That's his size. Smith is considered undersized at only 6'1″ 225lbs but he uses his small frame to his advantage. While you rarely see him get washed out of plays in college it's always something to think about when he'll be playing against bigger, faster, stronger players in the NFL. You see on film, he can tend to hesitate when attacking ball carriers which can lead to him missing on some occasions. Some scouts may say Smith is just limited to playing in 3-4 schemes, but I think he'll be fine playing as a WILL or SAM in a 4-3 scheme.
Giphy: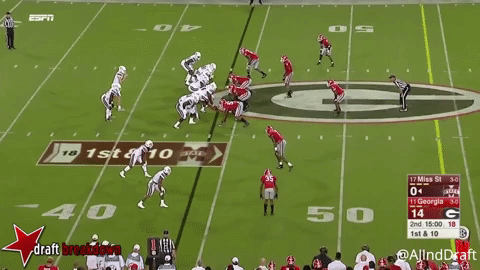 (#3 here)
Pro Comparison:
C.J. Mosley
Overall Review:
A three down player with plus speed and elite football IQ. He knows where the ball is going to be before anyone else, and beats the ball carrier to his own hole on a consistent basis. Can play in coverage just fine, but will excel as a sideline to sideline linebacker who will be a force against the run. Roquan Smith is someone who is already on first round radars, but will make himself even more money at the combine. Smith is an athletic freak who also has it all figured out on the field. Roquan Smith is a no brainer first rounder for me.
YouTube Highlights: