Strengths:
DaeSean Hamilton is an interesting evaluation. While Hamilton doesn't have the career production of some of the bigger prospects, he had a great senior season. In his final year at Penn State, DaeSean Hamilton hauled in 48 passes for 747 yards and 7 touchdowns. In his film review you come away underwhelmed, but at the same time impressed with his ability to track the ball and make contested catches. He does a good job of consistently catching and quickly turning up field for yards after the catch. Does a good job of catching with his hands when he needs to but also knows when and how to use his body to catch the ball. Hamilton can be a productive slot receiver in the NFL.
Weaknesses:
While DaeSean Hamilton doesn't have many elite traits, he doesn't struggle with one thing in particular either. He doesn't run very crisp routes, but he uses his short area quickness to separate just enough. I don't see a guy with a ton of speed, but he's quick off the ball and can run away from you in the open field. Doesn't overly wow you athletically. Needs to develop more of a route tree in order to have success against NFL corners.
Giphy: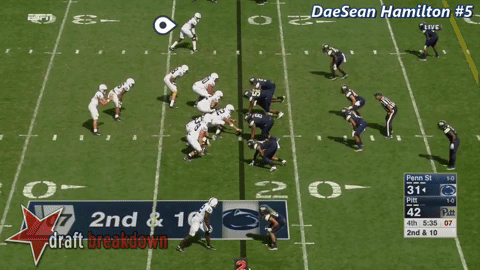 Pro Comparison:
Jeremy Maclin
Overall Review:
An intriguing player who I see being limited to the slot in the NFL. While he isn't elite at anything, he does a good job at almost everything. Does an excellent job of tracking the ball in the air and adjusting to off target throws. Has a really good feel for getting quickly upfield once he catches the football. Interested to see how he tests at the combine. He's one of those guys that likely plays faster than his 40 time will indicate. Has very strong hands and does a good job of using his body to catch and shade defenders when he needs to. Like him as mid round receiver that can really do damage in the NFL in short yardage work out of the slot.
YouTube Highlights: