Strengths:
An absolute monster physically. At 6'5″ 340lbs Vita Vea is a massive man and is practically impossible to move off the line of scrimmage. Vea will make a career in the NFL eating up double teams and plugging up running lanes, but don't let anyone tell you that's all he's good for. Vea has an explosive nature to his game that you wouldn't think to see from a 340 lb man. The Washington Junior shows a rare amount of quickness off the snap and ability to penetrate the pocket consistently getting after the quarterback and disrupting the run. While he is massive, Vita does a very good job of bending his lower half to gain leverage against interior offensive lineman and has active hands to work down the line of scrimmage. Very active hands and fluid hips allow him to have success beating double teams, stay balanced at the point of attack, and disengage from blocks.
Weaknesses:
Can tend to play tall at times late in games. When he plays tall his strengths are very limited. With his size he's likely limited to just a two down player until he develops more pass rush moves. Will sometimes drop his eye level, which allows him to lose track of the play.
Giphy: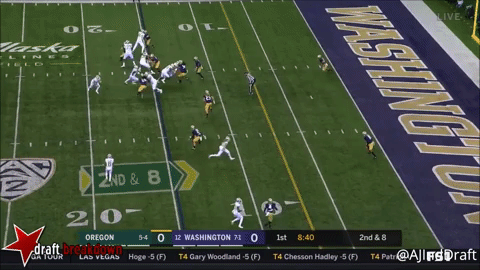 Pro Comparison:
Danny Shelton
Overall Review:
The comparison to Danny Shelton may seem lazy seeing as they both went to the University of Washington, but both players are very similar in the way they play. Both players rely on their strength to win at the point of attack and have an excellent feel for how to use leverage. Vea has a great understanding on how to use his hands and lower body power to win at the point of attack. While he will make a living in the NFL at eating double teams, he will win his fair share of one-on-one matchups as well as a run defender and pass rusher.
YouTube Highlights: