Strengths:
Very refined technique in his arms and hands. Uses a nice arm over move to win on 1v1 reps and uses his pure strength and explosiveness to eat up and even win when double teamed. Very explosive off the ball. Consistently wins off the snap with his power in his lower half and ability to gain leverage when he uses good pad level. Feet are always moving in the right direction when looking for a ball carrier. For his size, he's not just a trash can full of dirt, he's a great athlete. Not necessarily a strength, but his playing size now is perfect to walk into the NFL. Strong upper and lower half with unexpected speed. Will excel as a run defender and a pass rusher at the next level. Elite talent at defensive tackle with scheme flexibility inside.
Weaknesses:
While Payne doesn't have many, I have watched some games where his motor isn't as good as I'd hope for. Maybe that's his issue, or the fact his team was so good he rarely had to give 100% effort 100% of the time. Can play too tall at times which limits his strength when rushing the passer, would like to see him stay low and take advantage of his natural leverage. Balance could improve, and I'm sure that's something they will work on with him at the next level.
Giphy: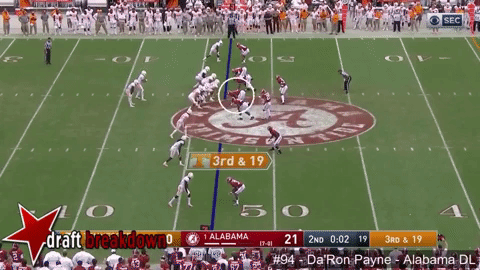 Pro Comparison:
Mike Daniels
Overall Review:
Da'Ron Payne is a combination of power, speed, and technique. While he plays defensive tackle he reminds me a lot of Green Bay Packers 3-4 Defensive End Mike Daniels. Both players use their strength and technique to take over football games. While Payne will primarily be playing inside in the NFL, I can see him having a similar impact on whichever team lands him, that Daniel's does for Green Bay. Payne is my DT1 heading into the new year, and I don't see that changing anytime soon. He's a stud.
YouTube Highlights: