Strengths:
Has the patience, vision, and explosiveness to really be a problem at the next level. His speed north and south and east and west will allow him to fit in with any offense in the NFL. While some will try and tell you he'll struggle running in between the tackles, I don't think that could be any more wrong. While he's known for his speed and shiftiness, he also plays with a great amount of power in his lower half for his size. Has soft natural hands as a receiver and is an excellent blocker in the backfield and when motioned out wide. Feet are consistently churning forward and he seems to always be falling forward. He will be an impact in the receiving game and running game in his rookie season. Really tough to bring down in the open field due to hi size, speed, and elusiveness.
Weaknesses:
While one of his strength is bouncing outside when running lanes are clogged, it also hurts him at times. He will sometimes bounce it when he has a hole in front of him that may have more daylight. He has the speed and vision to be elite but sometimes he trusts his speed over his vision and it will get him caught behind the line of scrimmage a bit too often. Once he learns to trust what he see's, he'll be a top back in the NFL.
Giphy: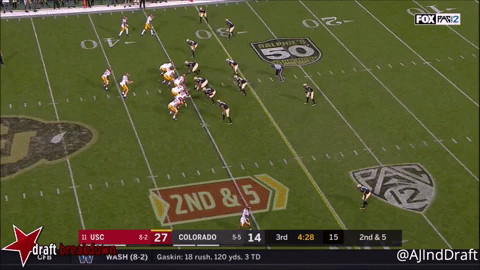 Pro Comparison:
Jamaal Charles
Overall Review:
Ronald Jones II ability to make an immediate impact as a rusher and in the passing game will surely land him in the top 40 picks at the latest. His vision is up there with guys like Le'Veon Bell, Ezekiel Elliott, and Todd Gurley. His ability to get to the edge and turn the ball upfield in a hurry is also one of his best traits. Jones is without a doubt a three down back and will make a team at the end of the first or beginning of the second very happy.
YouTube Highlights: