Strengths:
Anthony Miller creates separation while on the field. You will notice his footwork and ability to balance while running his routes. He's also great at breaking tackles in the open field. One of the most entertaining things to watch with Miller is his cut jumps around players. He has the ability to make difficult catches look easy. I have seen a lot of receivers miss the same ball that he brings down with ease. Anthony Miller is electric with the rock in his hands, and some would say he's practically impossible to bring down.
Weaknesses:
One thing that will definitely get noticed is his size not fitting the stereotypical WR profile. This will be a test for him to see if he will be able to withstand the brute force of larger, faster, and stronger defensive players in the NFL. Spending time with developmental staff will be critical to his success as he has a high ceiling. You will also notice that he has a bit of a temper and doesn't do well when he messes up on the field. This could be a show of passion of the game or could be a character flaw. Miller is currently dealing with a lower-body injury that is keeping him out of the 2018 Reese's Senior Bowl. This will be something to keep a close eye on as we move deeper into the draft process.
 Giphy: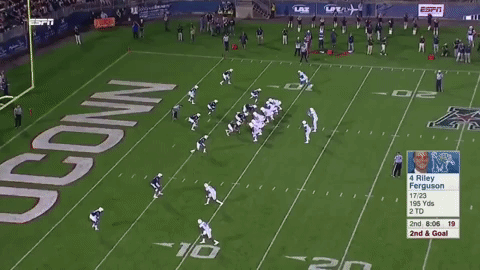 Overall Review:
Anthony Miller has some skills that would benefit several teams in the NFL and should succeed at the next level. His ability to make plays in all depths of the field will get him involved early in the offense. He will require some developmental training, but overall has the technical ability to be a top playmaker in the NFL. I expect him to be a rookie of the year candidate in the upcoming season.
YouTube Highlights: