Strengths:

Christian Kirk, demonstrates good body control as demonstrated when he pivots his body while high pointing the ball. After the ball has been placed in his hand he shows exceptional ability to cover the rock. Kirk is also notorious for creating separation on the field. Overall you can tell he has the game IQ and route running abilities to take him through to the next level. He is quick off the snap and also has great acceleration. One of my most notable conclusions on Christian is that he is also a patient player. As a returner, he waits for the play to develop and his linemen to block before taking off. This allows an open field for him to navigate through.
Weaknesses:
One thing I would like to see is fewer body catches from Kirk, while he does high point most of his tape shows that he does body catches more often than you would like. Let's talk height, Christian Kirk is measured at 5'11 which is not a stereotypical height of 6'1. As we know this can hinder how a team feels about him and affect his catch radius.
Giphy: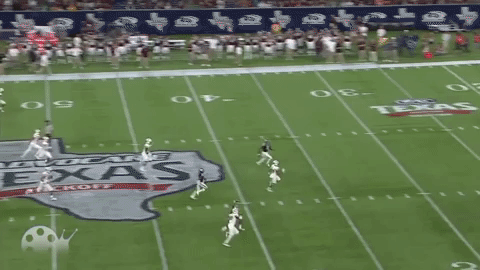 Pro Comparison:
TY Hilton
Overall Review:
Christian Kirk, is a name to add to your board for sure. In the return game, I love his ability to be patient and wait for linemen to create blocks on the field that he then uses to leverage his speed. This shows that he not only recognizes his strengths but can manipulate the field to elevate his game and give him an upper hand. Kirk, and his ability to secure the ball, I have seen other players fumble when corners come charging in. Not this guy. Christian would be best as a slot receiver but also shows potential to play on the outside.
Draft grade: I would expect Kirk to go in the 2nd round
YouTube Highlights:
-Talking the draft like a girl with @Sammy_J_Miller