Every NFL Draft season there is always a handful of prospects who seemingly fly under the radar get drafted in the mid rounds and outplay their draft stock to an extreme. Last year we had guys like Alvin Kamara and Carl Lawson outplay their draft stock to the extreme. This year, there's another guy I'm seeing fly under the radar that at this time next year every scout and general manager will be kicking themselves for passing on.
Meet North Carolina State's 5-foot-11, 223lb swiss-army-knife Jaylen Samuels. When I say swiss-army-knife, that's exactly what I mean. A guy who can literally do it all.
Samuels spent his career at N.C. State playing a variety of roles at an extremely high level. In his four years at State, he rushed for 1,103 yards on just 181 carries (6.1 YPC) and hauled in 76 receptions 1,855 yards playing both wide receiver and tight end. Along with taking carries out of the backfield and catching the ball as a receiver and tight end, he also did a ton of blocking as a fullback/H-back and tight end.
In most cases, when a guy is asked to do as much as N.C. State asked from Samuels they normally struggle with doing all of those said things well. That was not the case for Jaylen Samuels. In his four years at N.C. State, Samuels scored 47 times as the schools "swiss-army-knife" and proved to be one of the most consistent players on the team and in the Nation.
One of my favorite things about Jaylen Samuels is the arrow is still pointing up. After an extremely productive college career, Samuels was invited to the 2018 Reese's Senior Bowl and put on a show for everyone. Samuels originally was invited to the Senior Bowl as a fullback but was later moved over to running back just a few weeks before leaving for Mobile, Alabama. Down in Mobile, Samuels was one of the most consistent running backs on either team and was one of my highest rated players leaving the Senior Bowl after all the practices and the game itself.
In practices, he showed off his consistent hands and route running abilities and was easily the best receiving running back in practices from both the North and South team. As a true runner, I thought he was fantastic in practices as well showing good vision, burst, and balance which was something he was very good at as a member of the Wolfpack. For those of you who weren't in Mobile all week to see his work in practices I thought I'd break it down for you below using GIFs from his film at N.C. State.
Here's a perfect example of what Jaylen Samuels brings to the table as a receiver. Here he runs a decent route, but sits down nicely and brings in the contested ball with no problems. This might not look like much, but this is a great play from #1: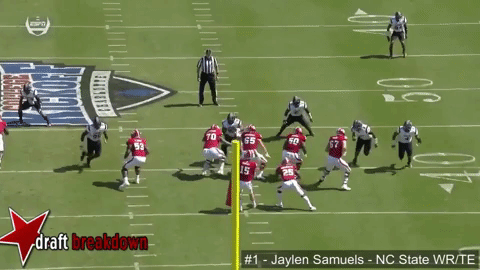 Here's another sneaky good play. Samuels does an excellent job of avoiding contact at the line of scrimmage that would have definitely thrown off his timing and allowed the defensive back to come up and make a play short of the sticks on fourth down:
Yet another tough catch here from Mr. Samuels. Look at his body control that he uses to adjust to a poorly thrown ball, then he has the ability to hang onto the football after taking a shot at an awkward angle: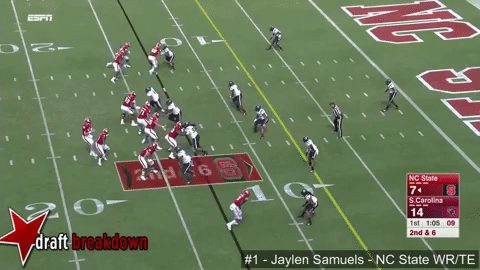 Here he shows off good patience, vision, and burst to get the key yards on fourth down. Samuels lets things develop, then when he sees his opening, he's able to burst through the line of scrimmage for five dirty yards: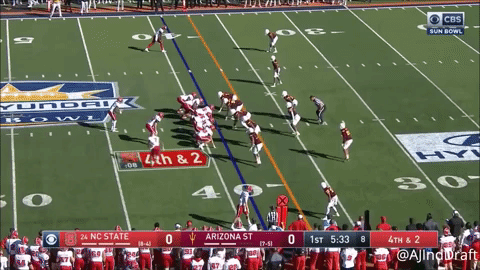 \
Some people may knock Jaylen Samuels because he wasn't able to perfect one position (because he was playing so many others), but I think that only strengthens his grade on my board. For a team to draft a guy that they can line up at running back, H-back, slot receiver, tight end, and he can do all of them at a high level is only a plus for both the team and the player involved.
With a player of Jaylen Samuels caliber and versatility, he is currently flying up my draft board and should land somewhere in my top 50. His performance at the NFL Scouting Combine in about two weeks will definitely have a lot to do with where he ends up on my final board.
There isn't a team in the NFL that can't use a running back that catches the ball like a receiver, a receiver that can run with the patience and vision of a running back, or a tight end that can run routes and help move the chains. That is what makes Jaylen Samuels one of the most intriguing players in the 2018 NFL Draft class.
Got a Lot to Say From RVA – Follow me on Twitter- @ConnorNFLDraft