Jamal Custis –  WR – SCHOOL Syracuse
Height -6'5 " Weight – 213lbs
Twitter: @JCustis17
Strengths:
J.Custis creates separation and uses his size to his advantage. Some of the most comfortable or common routes for him to run are screen and slant routes. Custis isn't afraid to jump and reach for the football. It's a rare sight for him to not catch anything thrown his way. Jamal is athletic and physically sound. Custis can also play special teams and will block.
Weaknesses:
One of his most noticeable flaws is his limited route runs.
Giphy: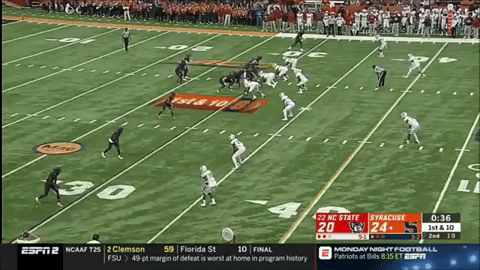 50-50 ball? No problem.
Pro Comparison:
Dez Bryant
Overall Review:
Jamal Custis catches the football a lot like Dez Bryant. From the one-handed catches to the limited routes and using his size as an advantage. He creates separation and uses the full speed ahead approach. One thing is you can definitely count on Custis to catch the ball!
I estimate Jamal Custis will be drafted somewhere in the 2nd round. It's pretty unlikely a team needing a WR will pass him up.
YouTube Highlights: