John Ursua – WR – Hawaii
Height – 5'9 " Weight – 175 lbs
Twitter:@johnursua5
Strengths:
John Ursua has great athletic ability and plays with a tremendous amount of balance in his routes, and after the catch. Along with his long speed and ability to separate down the field, you have a guy that can give defenses fits on all three levels of the field. His vision and ability to create plays with the ball in his hands makes him very hard to defend and bring down when in space. Ursua has extremely sticky hands and brings in just about anything that's thrown his way. In 2018, Ursua had 89 receptions 1343 yards and 16 touchdowns.
Weaknesses:
Ursua is weighing in at 175-lbs and at 5'9 this places him squarely on the smaller side of the scale. Ursua is without a doubt undersized, and the tape shows that he can be knocked off balance quite a bit. Ursua can struggle to get off press-coverage and needs to improve his play strength at the top of his routes and in and out of his breaks.
Giphy: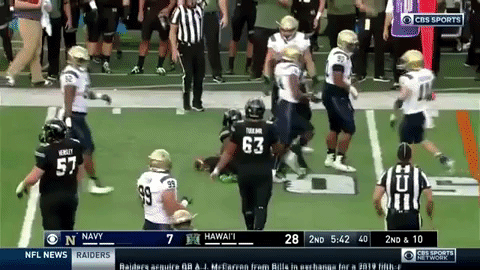 Pro Comparison:
Cole Beasley
Overall Review:
Overall, Ursua is a guy that lacks the ideal measurable's but makes up for his lack of size with great intangibles on and off the field. Ursua is a guy who will likely make his living in the slot and using his short area quickness to get open off the line of scrimmage and in and out of his breaks. Ursua is a guy who won't be drafted early, but a guy who can make an impact in the later rounds of the draft.
YouTube Highlights: