10 Fantasy Players We're Watching
Every season new fantasy football heroes arrive on the scene from out of nowhere and the 2018 season will be no different. Pro Football Talk Line has compiled a list of potential breakout players. Some we have watched breakout and some we're watching and waiting for the breakout. Not all of these players will make the pro bowl or be fantasy MVP candidates, but at some point, they might be a top waiver wire add or a simple addition to your team. Let's take a look at the list that we have compiled below.
5 Players We Watched👁
1. Trey Burton TE, CHI👁
Measurables/Combine Results
The undrafted Florida product stands 6'3"and 231 lbs runs, 4.58 40 yard dash, notched a 30-inch vertical leap and measured hand size of 9 3/8"
OUTLOOK
Burton was formerly a backup tight end with the Eagles behind Ertz and Celek. Now he is expected to see more playing time after being signed by Chicago for 32 million this past season.
The versatile human Swiss Army knife has a prime opportunity to be the number one tight end on a Matt Nagy coached offense. He will play the U tight end this year in Chicago. Burton will be moved all over the field in this hybrid wide receiver/tight end role. Nagy's system and Burton's abilities are the perfect marriage, think Kelce 2.0.
In the limited preseason action, Trey Burton is already looking like Mitch Turbiskys favorite receiver. If this is a glimpse into the future, then the Bears 32 million dollar man should be peppered with targets all season long. He will most likely be the teams top red zone threat too. After all, the red zone is where he made his money last year. In 2017 Burton caught six of seven red-zone targets for 69 yards and four touchdowns and zero drops. With a mix of good hands, sharp route running and extreme versatility. Burton has the talent to be an elite tight end in this league.
2. Mike Williams WR, LAC👁
Measurables/Combine Results
Las Angeles Chargers No. 7 overall pick from last year. Stands 6'4 and 220 lbs, he runs a 4.50 fourth yard dash, notched a vertical leap of 32.6 inches and measured hand size of 9 3/8"
OUTLOOK
In 2017 Williams struggled with injuries that cost him valuable playing time. When Williams was on the field last year he was not very effective managing just 11 catches and 95 yards receiving in a disappointing rookie season.
It's important to note the Chargers are now forced to find a way to replace the 63 targets left behind by Hunter Henry (season-ending knee injury). This problem seems to fall on the shoulders of this athletic big bodied wide receiver. Entering his sophomore season with a clean bill of health he looks primed and ready to accept the challenge of filling Henry's shoes.
For the most part, this preseason Williams has been fast, explosive, and continues to make great catches in traffic. He's also showing the kind of ambition Los Angeles was hoping for when they drafted him. His style of play in clutch situations and size will create huge mismatches. Philip Rivers should have no trouble finding him in the red zone. If Williams remains healthy this season the Chargers could have one of the leagues best receiving duos.
3. Cortland Sutton WR, DEN👁
Measurables/Combine Results
Drafted by the Broncos in the second round out of SMU in 2018. Stands 6'3" and 215 lbs he runs a 4.54 40-yard dash, notched a vertical leap of 35.5 inches, and measured hand size of 9 3/4"
OUTLOOK
Sutton is already being touted by some as Denver's best draft pick since Von Miller. He was praised for being mentally and physically tough in camp. You may not know, as a kid this guy was digging three foot deep holes on his ranch with a post hole digger. So he knows about hard work and strong hands.
There's no denying Sutton is a massive receiver and he has been showing off that top shelf talent he possesses. But this freakishly gifted wide-receiver has turned it up another level in camp and the preseason. Just recently he went toe to toe with Josh Norman and made it look easy. Creating separation and making a back shoulder catch against Josh Norman as a rookie. It's a BIG DEAL preseason or not. After watching Sutton play it seems like there is no catch he can't make and it appears that Sutton will be a major impact player very soon.
Sutton's skills are certainly impressive, to say the least. He has exceptional fundamentals, because of his basketball background. He's able to box out smaller cornerbacks, high point the ball and spring over the defender. With his considerable size and catch radius, he should have massive red zone volume.
It's truly impressive how quickly Sutton has emerged and started competing for a starting spot. If Sanders moves to the slot then Denver could use Sutton in 3 receiver sets allowing the new Broncos weapon to have a bigger impact sooner.
4. Anthony Miller WR, CHI👁
Measurables/Pro Day Results
Chicago drafted Miller in the second round in 2018. He stands 5'11 and 201 lbs, ran the 40-yard dash in an unofficial 4.48 seconds, notched a vertical leap of 39 inches during his pro day. He measured a ridiculous 10 5/6" hand size. Currently, the biggest hand measurements of any 1st or 2nd round WR drafted since 2002.
OUTLOOK
Miller tormented college defenders for three years in the AAC. He graduated from Memphis as the schools All-Time single season, single game for catches, receiving yards and touchdowns leader. Miller's career stat line looks like this. Receptions 238, receiving yards 3,590, and touchdowns 37.
It's also worth noting, Isaac Bruce and Miller are the only two Memphis receivers to record 1,000 yards receiving in a single season in school history.
Coming out of college some consider Miller a finished product. His routes are crisp, athletism is outstanding, speed and quickness are obvious. Miller has repeatedly proven he can make every catch. He is showing all the signs of being the total package wrapped in blue and orange paper.
Earlier this summer the internet went crazy with excitement over Millers leaping catches in camp. Videos of Miller making acrobatic catches caused a momentary rise to celebrity for the young receiver. It's also worth mentioning, with all the hype surrounding Miller, lofty Antiono Brown comparisons are already being made too.
Miller had no problem immediately seizing the starting slot role. He should thrive in this position because Turbisky will be looking to deliver the ball fast and make high percentage throws. This opportunity makes Miller a smart bet to lead all rookie receivers in catches this year. Already showing flashes of brilliance this rookie could be on the path to super-stardom.
5. Jordan Wilkins RB, IND👁
Measurables/Combine Results
Drafted by the Colts in the 5th round in 2018. The 6'1 and 215-pound rookie ran a 40-Yard Dash in 4.50 seconds, notched a vertical leap of 36 inches and measured hand size of 9 3/8"
OUTLOOK
Perhaps Wilkins most impressive traits are his bursts, agility, quickness, and vision. He lacks long speed but makes up for it in other areas.
With his physical style of play, Wilkins was turning heads in camp. It's safe to say he has legit upside. With a rebuilt offensive line and new coaching scheme, the Colts backfield might have some hidden value.
Indianapolis is a perfect fit for Wilkins because the Colts don't have a lead running back. The position is up for grabs. Wilkins is one of three healthy non-suspended Colt running backs on the roster right now.
Earlier the off-season rumors started circling about a RBBC in Indianapolis. But don't let that scare you away, because every NFL backfield uses some sort of committee. Wilkins is the only Colt running back built to handle a full work load on a consistent basis. Plus, so far this preseason he showed some nice receiving abilities. Nyheim Hines is already having fumbling problems. Marlon Mack is hurt (he's always hurt).
Look for Wilkins to climb the depth chart and take the lead role sooner than later. This appears to be his job to lose. If he gets the start in week one he could literally run away with the starting gig.
Players Were Watching 👀
1. Austin Ekeler RB, LAC 👀
Measurables/Combine Results
This former un-drafted Mountaineer product stands 5'9, and 195 lbs, notched a vertical leap of 40.5 inches, a 40-yard dash of 4.43 seconds and a broad jump of 10 feet 8 inches.
OUTLOOK
Ekeler is a little human dynamo, equipped with electric reflexes, impeccable laser powered lateral movement, and agility that would make a cat jealous. He definitely fits the old Danny Woodhead satellite back role perfectly.
The pint sized running back made plenty of great plays last year. And turned some heads with his impressive footwork and balance in a backup role. Ekeler's stats show his high production in just 14 games in 2017. He contributed 539 total yards on 74 carries with five touchdowns. That equates out to just over seven yards per touch. 
This little lightning bolts abilities were really eminent in week 3 of the preseason. Popping off nice runs looking fresh and fast. Ekeler is a great fit for the Chargers system. He is a jack of all trades type of player that doesn't need a lot of touches to make an impact. His sure hands make him a safety valve at the running back position.
More opportunities in this Ken Whisenhunt lead offense would be monumental for Ekeler. The Chargers could start using more two-RB, three-WR sets to maximize the amount of play makers on the field. Ekeler is a weapon and with Henry done for the year, he might not need a Melvin Gordon injury to increase his role.
2. Gerinimo Allison WR, GB 👀
Measurables/Combine Results
At 6'3" and 202 lbs runs a 4.67 second 40-yard dash, notched 33 inch vertical leap, and measured a hand size of 9 1/2"
OUTLOOK
Allison is a good sized receiver who lined up in the slot position most of the time last year. When it comes to wide receivers, Allison is a underrated technician with good route running abilities and sticky hands. G-MO can also make acrobatic catches while still keeping his feet in bounds when playing near the sideline. He is not afraid to fight for extra yards after the catch is made
After being an understudy for the last two years, Allison enters his third season with the Packers and his experience should give him a leg up on the competition. Rodgers and McCarthy are keen on chemistry for all these reasons listed, He will likely win Jordy Nelson role in three receiver sets.
Howeve,r if Cobb gets traded Allison could move into the starting wide receiver position sooner than expected. If this happens he will have more opportunities in 2018. If everything comes together for Allison his counting stats could double this year. A career year in Green Bay might be on the way for Allison this season.
3. Trent Taylor WR, SF 👀
Measurables/Combine Results
San Francisco drafted Taylor in the 5th round 2017, at 5-foot-8, and 180 lbs he runs a 4.63  second 40-yard dash, notched 33 inch vertical leap, with a hand size of 8 1/2"
OUTLOOK
Taylor is an ideal slot receiver, basically a mirror image of Wes Welker. When it comes to shaking defenders, this fleet footed jackrabbit is one of the best at getting open. Last year NFL teams had trouble covering Taylor. He uses his quick feet and elusiveness to create space off the line of scrimmage. He imposes his will on the field and has complete control over defenders with his route running technique.
Yes, Taylor is small in stature, but Kyle Shannon's offense is designed to get guys open with advanced schemes and precise route running. Garoppolo and Taylors chemistry grew as the season went on last year. Now a year later this Quarterback and wide receiver duo have a full campaign to play together in a potentially potent offense
This slot machine will be a pin ball wizard on the field and Jimmy Garoppolo safety blanket. Look for Taylor to be a vital part of a good offense that had the second most pass attempts last year.
4. Chris Warren RB, OAK 👀
Measurables/Combine Results
This fromer undrafted Virginia product Stands 6'2" 245 lbs runs 4.69 40-yard dash, notched 33 inch vertical leap, broad jump 10.0 feet
OUTLOOK
Warren signed with the Raiders after attending their rookie minicamp in May on a tryout basis. Well, it shouldn't come as a surprise that Warren is in the NFL because he was born with NFL football pumping in his veins. In the early 90's his dad played in the NFL and made 3 pro bowls.
This guy is built like a tank, Warren is a linebacker trapped in a running backs body. He is soft spoken and carries a big boom stick. Physically he's a brute and he stands out in Oaklands backfield. A no nonsense guy with a powerful downhill running style, that displays outstanding vision, rarely brought down by the first defender, repeatedly breaks arm tackles and carries defenders for yards.
The best thing about this situation is that Jon Gruden loves versatility and that is just what Warren offers, he's a well balanced player. He could potentially be a Marcel Reece type of running back, because of his size and receiving ability. Warren is a well rounded  running back and a former tight end that can catch, block and run downhill.
The undrafted rookie has shown value in the exhibition games rushing for 250 yards. Warren remains firmly in the mix for a roster spot in 2018.
5. Mack Hollins WR, Phi 👀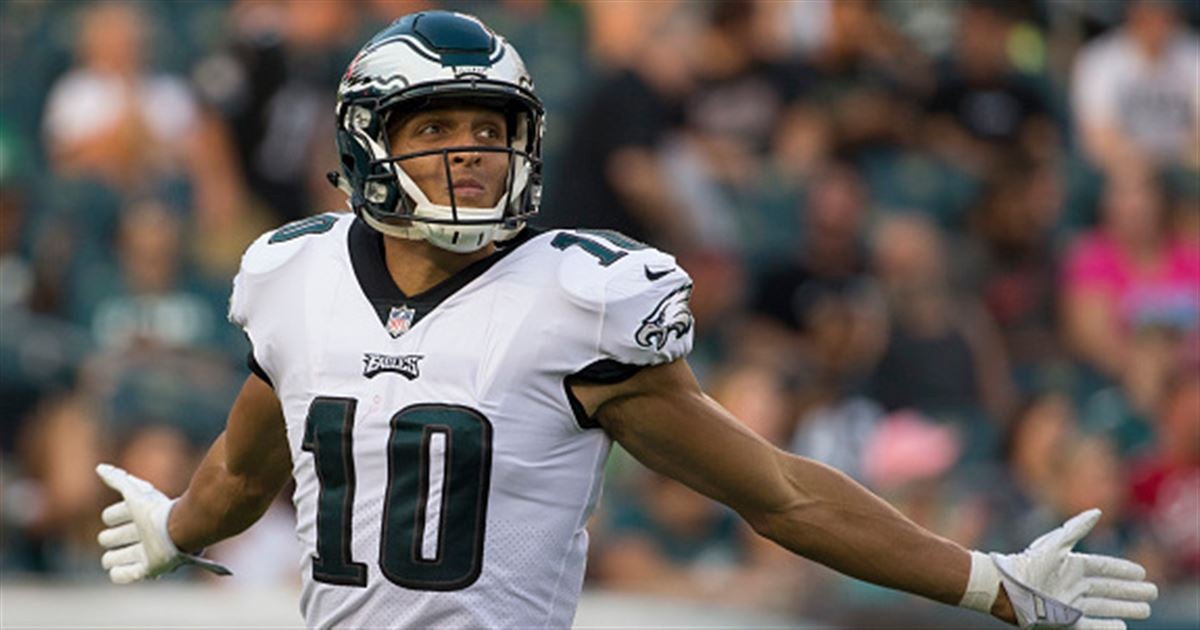 Measurables/Combine Results
The 2017 fourth round pick stands 6'4", 220 lbs 4.53 40-yard dash, vertical leap DNP and measured hand size of 9 3/4"
OUTLOOK
Hollins strong work ethic comes from a great family of military backgrounds, he's all about work.
Hollins runs like a gazelle he has long strides, good hands and track the ball well too. Surprisingly Mack is strong and tough he will fight with the defender to make the contested catches. Not a finished product by any means he is still a little raw and needs to work on developing his route tree.
Last year Mack only had 16 catches but did average the highest yards per catch at 14.1 since DeSean Jackson last did in 2008. Hollins first 8 catches of his career where all first downs
Mack has been exclusively working with the first team because Alshon Jeffery is not able to practice. The Eagles are especially thin at the wide receiver position. Alshon Jeffery was placed on PUP and Nelson Aglular is a little banged up. If Jeffery misses any time this year Mack could line up in the X position.
Heading into year two Hollins should have a better concept of the highpowered Eagles offense. Another year in the Doug Pederson system could help Mack evolve into that productive play maker. The Eagles want to give Hollins a bigger role on offense. So there should be an increase this year in Hollins playing time and opportunity.