8 Fantasy Players We Are Watching
Every season new fantasy football heroes arrive on the scene from out of nowhere and the 2018 season will be no different. Pro Football Talk Line has compiled a list of potential breakout players. Some we have watched breakout and some were watching and waiting for the breakout. Not all of these players will make the pro bowl or be fantasy MVP candidates, but at some point they might be a top waiver wire add or a simple addition to your team. Let's take a look at the list that we have compiled below.
4 Players We Watched👁
1. Patrick Mahomes QB, KC👁
Measurables/Combine Results
Drafted by the Chiefs in round one in 2017. He stands 6'3"and 230 lbs he runs a 4.80 40-yard dash, notched a vertical leap of 30 inches, and his hand size is 9 1/4
OUTLOOK
Much like his dad, who was an MLB pitcher, Mahomes is a gunslinger with a big league arm. He uses a velocity that tops out at 62 mph to routinely deliver strikes. Coupled with the amazing ability to throw 80-yard bombs, he can make every throw but at the same time, he's not just a pocket passer. He can also create plays with his legs making him a lethal dual threat. Last year he played understudy to Alex Smith, spending his entire rookie season sitting on the bench, but with Smith traded the expectations were high for Mahomes in year two. The young quarterback was put in a prime position this year, playing the Donovan McNabb role in an Andy Reid system loaded with weapons. After his record-breaking start to the season, Mahomes had to be added as the first quarterback to make the scouting room report this season when he became the first player in NFL history to throw 10 touchdowns in the first two weeks of the season. He finished Sunday's contest completing 20-of-23 passes for 309 yards six touchdowns and a perfect passer rating 158.3. Mahomes is the leading candidate for breakout player of the year. He obviously can't keep up this historic pace but he doesn't have to. Even if his production drops off he should easily finish with 35 TD
2. JuJu Smith Schuster WR, PIT 👁
Measurables/Combine Results
Drafted by the Steelers in the round 2 in 2017. He stands 6'1" and 215 lbs he runs a 4.54 40-yard dash, notched a vertical leap of 32.5, and his hand size is 10"
OUTLOOK
JuJu is known for his rugged, aggressive, alpha male attitude and ball-hawking skills. He plays to his size and has an advanced route running repertoire. JuJu had a strong rookie campaign with 58 catches 918 yards and seven scores. Another interesting fact, last year in three games without Antonio Brown, JuJu averaged seven catches 110 yards and two scores. There's no denying, he was more of a focal point in week two finishing the game with 13 catches for 121 yards and score. It will be interesting to see, what JuJu can accomplish with an entire season facing opposing teams number two corners. He already seems like more of a threat in his sophomore year and a boost in targets could catapult him towards a monster season.
3. Will Fuller V WR, HOU 👁
Measurables/Combine Results
Drafted by Houston in the first round in 2017. He stands 6' and 172 lbs he runs a 4.32 40-yard dash, notched a vertical leap of 33.5, and his hand size is 8 1/4
OUTLOOK
Fuller is a smaller receiver with below average hand size, but he possesses the ability to hit the big play. He gets to top speed immediately out the gate and has the explosive abilities to create opportunities to break a score at any time. Fuller has a high football IQ with a good understanding of coverage and can read defenses making him adept at exploiting the opposing team's weakness. Last season, Fuller caught seven touchdowns in four games a before Watson had season-ending surgery on his knee. With a healthy Watson back this and Hopkins drawing coverage from the opposing team's best coverage corners, Fuller will have easy match-ups and prime opportunities. Of his nine career touchdowns, four have been from 20 plus yards out. I fully expect the Texans to capitalize on Fuller's explosiveness to beat the defense deep. Fuller is perfect a weapon to pair with Hopkins. In week two he caught 8 balls for 113 and a score. After a couple injury plagued years Fuller is healthy and playing in a high powered offense making his 2018 season appear bright.
4. O.J. Howard TE, TB 👁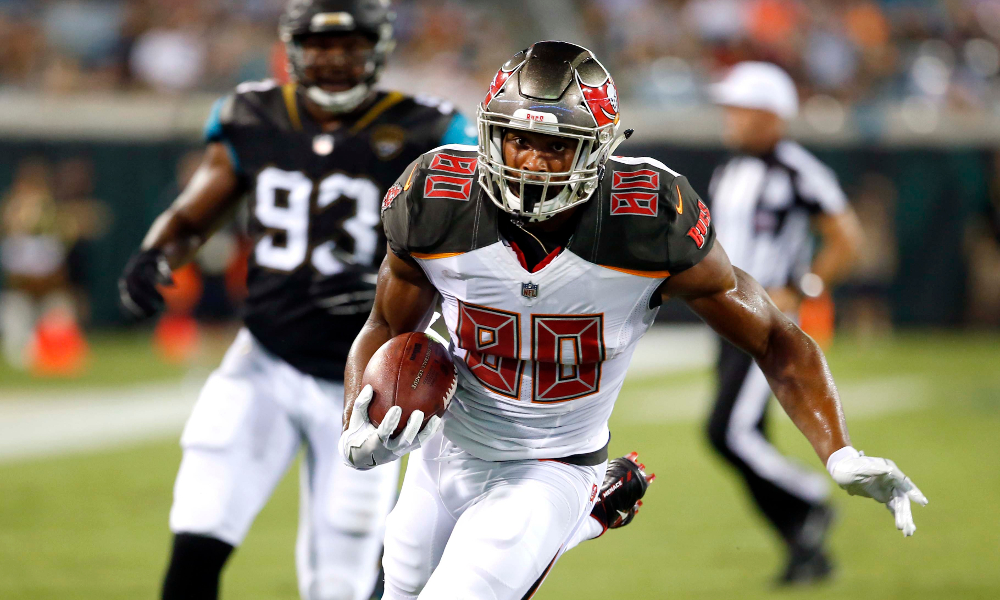 Measurables/Combine Results
Drafted by Tampa Bay in the first round in 2017. He stands 6'6" and 242 lbs he runs a 4.51 40-yard dash, notched a vertical leap of 30 inches, and his hand size is 10"
OUTLOOK
Howard is one of the most talented tight ends to enter the NFL in years. With long arms and huge hands, he's a nightmare for defenders to cover. It's no surprise this physical freak of nature is a tough player but Howard has surprising speed and uses it to blow past linebackers. Being well rounded and extremely versatile you can line him up sideline to sideline. His height alone makes him tough to handle but he also possesses excellent body control and can make those highly contested catches. A season ago he caught 26 balls for 432 and six touchdowns. This year he's still doing battle with Cameron Brate for playing time, but playing on a pass first team makes up for the lack of targets. In week 2 Howard caught three balls for 96 yards and a touchdown. In his sophomore year, Howard's role is expanding and should only increase as we get deeper into the season. When its all said and done Howard could take that Zach Ertz leap into the upper tier of tight end this season.
4 Players We Are Watching 👀
1. Corey Davis WR, TEN 👀
Measurables/Combine Results
Drafted by Tennessee in the first round in 2017. He stands 6'3" and 209lbs he runs a 4.48 40-yard dash, notched a vertical leap of NA, and his hand size is 9 1/8
OUTLOOK
Davis is a very competitive alpha wide receiver that has the right attitude needed to be a superstar in this league. He's cut from the Terrell Owens mold without the mental issues. Davis is a physical specimen with laser focus, crisp route running, and decent speed. He's a real problem for corner backs to cover especially on 50/50 balls because he can use his strength and out muscle them for the position. He only saw action in 11 games last year catching 34 balls for 375 yards. Being bitten by the injury bug is the only thing holding this stud back. Davis showed a glimpse of the potential he possesses last year in the AFC Divisional playoff game. Catching two touchdowns against the Patriots tying a single game post season record. Its also important to note, after implementing the play calling to fit the talented wideouts strengths. New offensive coordinator, Matt LaFleur, wasted no time targeting him 20 times in the first two weeks of the season. With the team forced to replace 111 targets left behind by Delanie Walker after being placed on IR. It might take time for the offense to gel but either way, Davis should be a target monster.
2. Peyton Barber RB, TB 👀
Measurables/Combine Results
Undrafted out of Mississippi he stands 5'10" and 228 lbs he runs a 4.64 40-yard dash, notched a vertical leap of 32.5 inches and his hand size is 9 3/8
OUTLOOK
Barber has good lower leg strength and will drop his pad to deliver punishment when needed. He has good vision and uses his lateral agility to cut through the running lanes. At the end of last season, Barber flashed at times finishing the final five games with at least 12 carries ending the season with 423 yards and 3 touchdowns. Another key point to remember, competition is thin at running back now that Doug Martin and Charles Sims are out of town. The only other threat for playing time was new rookie runner Ronald Jones, but Barber clearly outplayed Jones in camp this preseason. Barber averaged 5.3 YPC in the preseason putting the running back compilation to bed while also earning high praise from coach Dirk Koetter all off-season. Tampa Bay made the offensive line a priority in the off-season in hopes of making the run blocking better than it was a year ago. Barber figures to draw a larger workload than in previous years and is a running back seeing 15 carries a game in an offense that can move the ball, providing plenty of opportunities to put up fantasy numbers.
3. Tevin Coleman RB, ATL 👀
Measurables/Combine Results
Drafted by Atlanta in the third round in 2015. He stands 5'11'" and 225lbs runs a 4.39 40-yard dash, notched a vertical leap of NA, and his hand size is 8 5/8
OUTLOOK
Coleman is a north-south runner with straight-line speed. He's fearless between the tackles and has game-changing abilities.  He's a dominate one-cut runner with a good acceleration to hit second gear leaving defenders in the dust. Last season Coleman averaged 4.0 yards a carry and totaled 927 yards while scoring 8 times. It must be remembered, when given the opportunity he has shown signs of being a productive three-down back. Not to mention, the league's fifth best offensive unit got even better this past off-season by adding right guard Brandon Fusco. So he'll receive rock-solid run blocking this season. In any event, Coleman's in a prime spot running the ball for a high powered offense with a plethora of weapons surrounding him. In week 2 Coleman filled in for injured starter Freeman and rushed for 107 yards and 4 catches. Coleman averages 16 fantasy points per game when Freeman is out and with a lot of questions about Freeman's injury history and physical running style, Coleman could be in line for more starts in the future.
4. Alfred Morris RB, SF 👀
Measurables/Combine Results
Drafted by the Redskins in the sixth round in 2017. He stands 5'11" and 222 lbs runs a 4.67 40-yard dash, notched a vertical leap of 35.5 inches, and his hand size is 10 1/4
OUTLOOK
The grizzled veteran is a short, shifty running back that runs with purpose. He breaks arm tackles fight for extra yards and is hardly ever tackled for a loss of yards. Morris first broke out six years ago for the Redskins. In his rookie year, he went on to break Clinton Portis single-season rookie rushing record with 1,613 yards. He also broke Charles Taylor's touchdown record scoring 10 times that same year. Halfway through the preseason this year he signed with the Niners. Thanks to a McKinnon season-ending injury Morris has risen up the depth chart. At this point, he looks primed and ready to take over short-yardage and goal-line work. I fully expect Matt Breida's role to increase after his big week 2 performance, but Morris will still see plenty of work in a Shannon offense that produces productive rusher after rusher. Morris could easily gain 800 yards rushing and a handful of touchdowns this season.