4 Players We Watched 👁
1. Calvin Ridley WR, Atlanta Falcons 👁
Drafted by Atlanta in 2018
Measurables/Combine Results
Height: 6'1" Weight: 190lbs
Hand Size: 9 1/2 inches
40-yard Dash: 4.43 seconds Vertical Jump: 31 inches
Positives
Excellent footwork
Big play ability
Route running specialist
Good speed
Negatives
Small build
Little hands short arms
Not physical
Gets jammed off the line
Outlook
Ridley is a talented receiver and masterful route runner with the aspiration to be great. The Falcons drafted Ridley in the first round for a reason. Atlanta's offense was searching for a number two receiver the last couple years, since the departure of Roddy White. They needed another threat on the outside and they found one in Ridley. Lining him up on the opposite side of the field from Julio isn't fair because he will draw single coverage all day. After witnessing Ridley steal the show with a huge breakout performance vs the Saints collecting 146 yards and three touchdowns, coupled with his familiarity with Sarkisian offense, I expect Ridley to use his route running and speed to continue this high-level production in 2018.
2. Eric Ebron TE, Indianapolis Colts 👁
Drafted by the Lions in 2014
Measurables/Combine Results
Height: 6'3" Weight: 250 lbs
Hand Size: 10 inches
40-yard Dash: 4.60 Vertical Jump: 32 inches
Positives
Huge hands and long arms
Good speed
Very confident player
Good route running
Three down tight end
Mismatch for defenders
Very Versatile
Extremely athletic
Negative
Average Height
Drops balls
Needs to improve run blocking
Outlook
Ebron is an underrated athlete with big hands and sneaky speed for his position. Not to mention, he was a top ten tight end the last two years for Detroit. Even though he's competing with Jack Doyle for targets this year, the potential for success is still sky-high because he's now playing in a Colts pass-first offense that uses two tight end sets. Catching balls from a Top 5 quarterback for a team that lacks height in a Frank Reich quick strike system, Ebron's red zone target share should soar. It's safe to say, he will be a dangerous weapon. Over his first three games this season, he has converted 20 targets into 12 catches for 110 yards and two touchdowns. If everything plays out to my expectations, he might have his best season setting career highs across the board.
3. Tyler Boyd WR, Cinncinatti Bengals 👁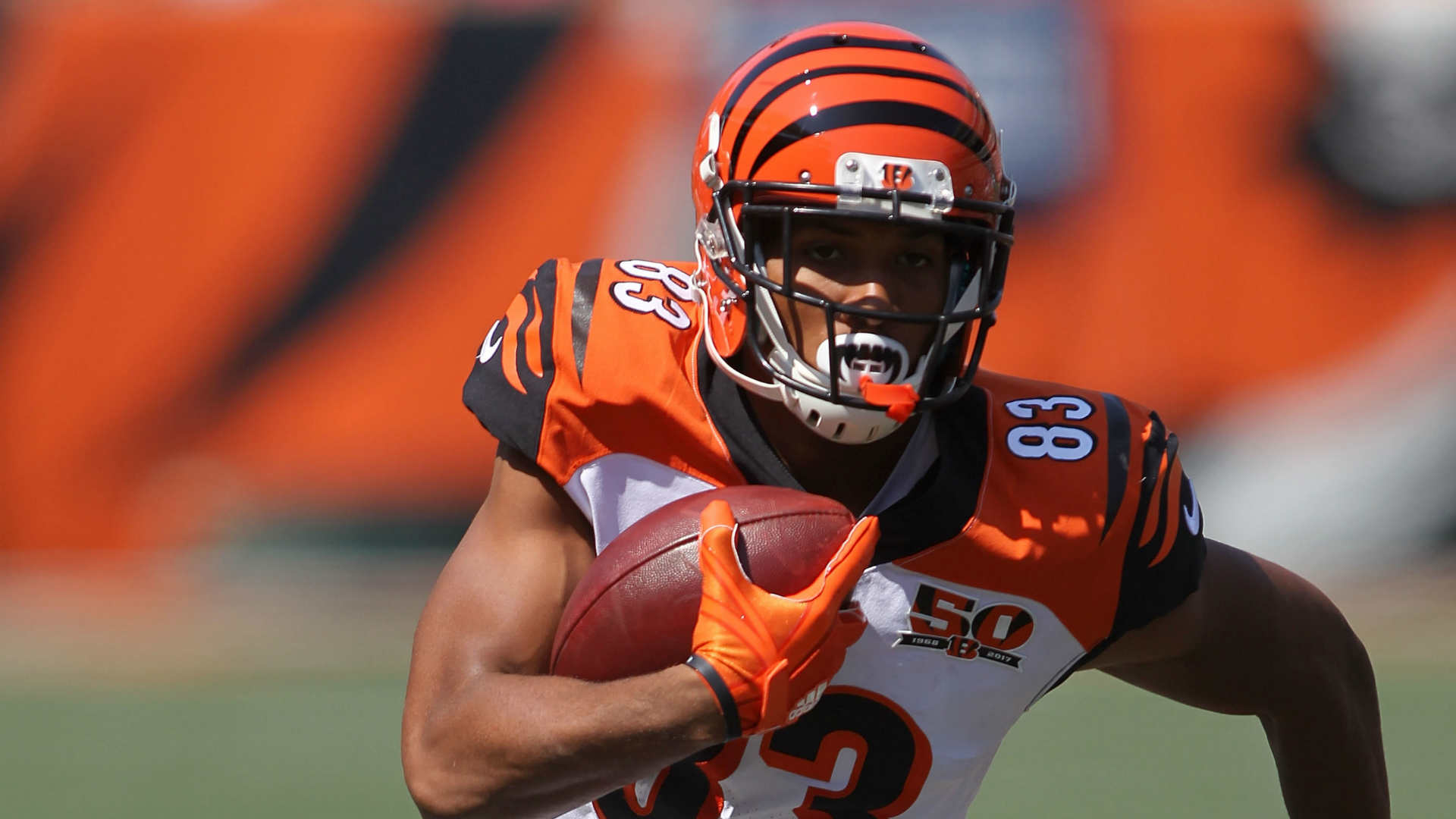 Drafted by Cincinnati in 2016
Measurables/Combine Results
Height: 6'1" Weight: 197 lbs
Hand Size: 9 3/4 inches
40-yard Dash: 4.58 seconds Vertical Jump: 34 inches
Positives
Strong hands
Extremely competitive
Outstanding body control
Confident player
Sharpe route running skills
Negatives
Lacks top speed
Limited YAC
Outlook
Boyd understands coverage and he can read a defense. Because of his versatility, Cincinnati can play him in any receiving position. This season he has found most of his success running routes out of the slot. As a result of John Ross failing to impress and Dalton playing a high level of football right now, Boyd is an intriguing player in the fantasy community. He is rapidly establishing himself as the clear No 2 in the receiving game. Its also important to realize, A. J. Green injured his groin and has a been injury prone the last couple of years. If Green were forced to miss time, Boyd would be the number one receiver on a team in need of weapons. For the second week in a row, Boyd set a career high for with 132 yards and a touchdown and now ranks 11th in receiving yards. When it comes to Boyd, he definitely possesses the tools and if he puts it all together in his third year, he could have nice fantasy production for the rest of the season.
4. Kerryon Johnson RB, Detroit Lions 👁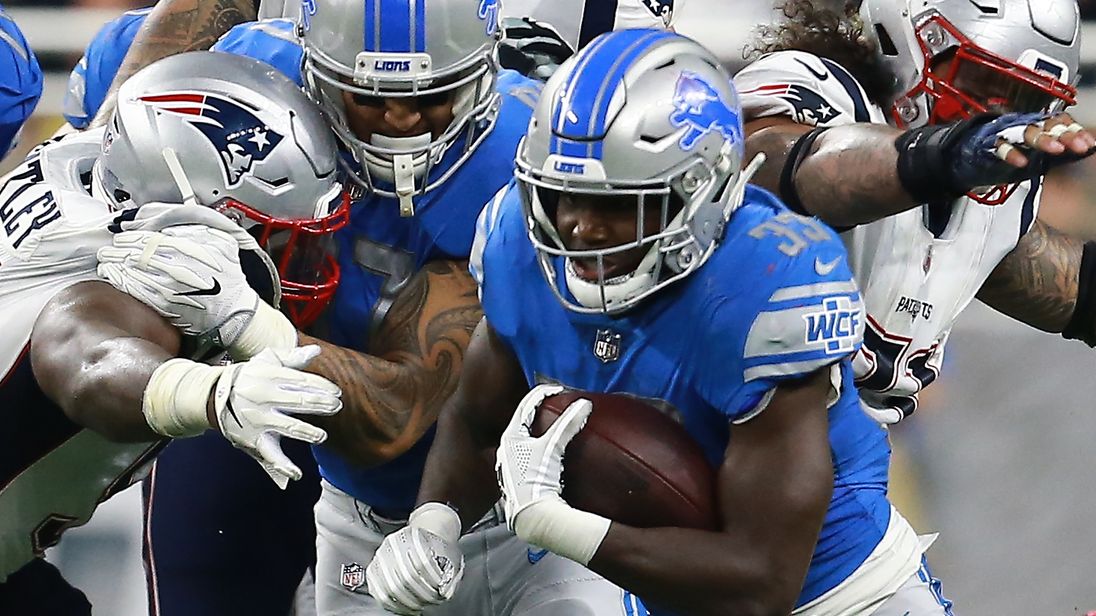 Drafted by the Lions in 2018
Measurables/Combine Results
Height: 6' Weight: 205 lbs
Hand Size: 9 3/4 inches
40-yard Dash: 4.52 seconds Vertical Jump:40 inches
Positives
Powerful
Patient runner
Three down back
Solid stiff arm
Good agility
Good receiving skills
Negatives
Gets caught behind the line
Stops his feet
Runs straight upward
Outlook
Johnson is a good runner who combines patients and balance while running with a smooth slashing style. He has some DeMarco Murray to his game. He's not just a one-trick pony either; flashing as an impressive receiver with soft hands out of the backfield. After rushing for 60 yards combined over the first two games of the season,  Johnson had that signature game rushing for 101 yards in Week 3 vs the Patriots. It's crowded in the Lion's backfield but he proved last week he is by far the Lions best runner. Detroit needs to be more balanced on offense and running the ball reduces hits to Stafford. The whole organization loves this guy and he is the running back of the future and his role should grow as the season goes.
4 Players We Watching 👀
1. Cooper Kupp WR, LAR 👀
Drafted by the Rams in 2017
Measurables/Combine Results
Height: 6'2" Weight: 194 lbs
Hand Size: 9 1/2 inches
40-yard Dash: 4.62 seconds Vertical Jump: 31 inches
Positives
Consistent hand
Good route runner
Quick feet
Extremely competitive
Negatives
Slow speed
Can't separate
Outlook
Kupp flashed his high football IQ throughout the combine and testing scouts raved about his intelligence. Last season Kupp had most of his success working out of the slot position and he's a perfectionist who works relentlessly on his craft. In his rookie year, he consistently created space by running precise routes and using his body to make the tough catches. After a solid rookie campaign finishing as Goff's favorite target, collecting 62 catches 869 receiving yards, the expectation is high in his sophomore year and he is picking up where he left off. Over the first three games, Kupp is averaging 15.6 fantasy points per game. His playing in a potent Rams offense without a pass-catching tight end it's likely he goes over 80 rec and 1,000 yards this season.
2. Royce Freeman RB, Den 👀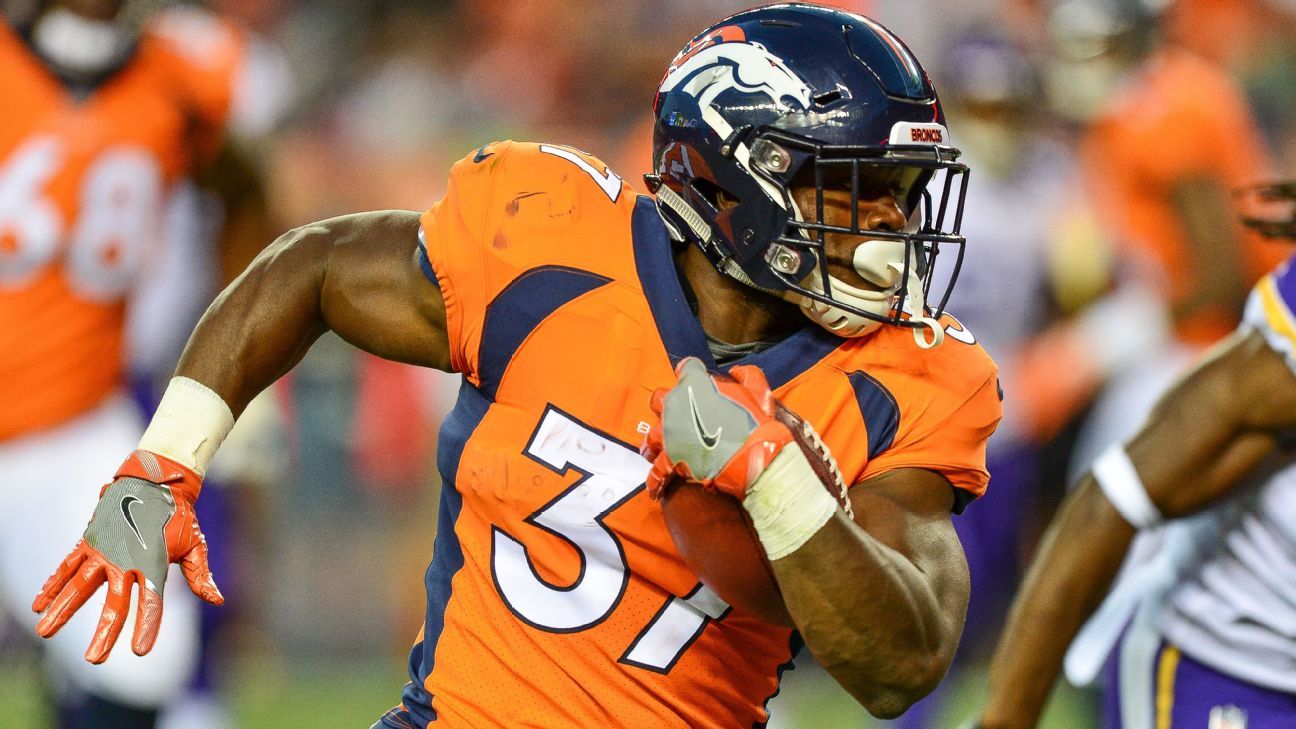 Drafted by the Broncos in 2018
Measurables/Combine Results
Height: 5'11" Weight: 234 lbs
Hand Size: 9 1/2 inches
40-yard Dash: 4.54 Seconds Vertical Jump: 35 inches
Positives
North-south runner
Good goal-line back
Patient runner
Powerful
Never fumbles
Three down back
Can catch
Negatives
Lacks elusiveness
No breakaway speed
Outlook
Freeman is physical, muscle-bound running back from head to toe, built for accumulating tough yards. He combines good vision and patience allowing the running lanes to develop before he takes off through them. He is surprisingly well-rounded with a more than capable receiving skill set to boot. His collegiate numbers speak for themselves as he had over 5,600 rushing yards, averaged 5.9 YAC, and topped it off with 64 total touchdowns. At this point, he's in a time-share with a surprisingly effective Philip Lindsay. However, with touchdowns in back-to-back games, he could be turning the corner. I expect Freeman to eventually take over most of the rushing load this season. If this happens he could easily end up the season as a high end RB1.
3. Baker Mayfield, QB, Cle 👀
Drafted by the Browns in 2018
Measurables/Combine Results
Height: 6'1" Weight: 215 lbs
Hand Size: 9 1/4 inches
40-yard Dash: 4.84 seconds Vertical Jump: 29 inches
Strengths
Tough mentality
Playmaker
Quick delivery
Decent arm strength
Good accuracy
High football IQ
Can extend plays
Negatives
Outlook
Mayfield is the most accurate quarterback coming out of the 2018 draft. He has an aggressive mindset and arm accuracy that resembles a poor-mans Drew Brees. He's not a speedster but when everything breaks down around him he can create plays with his legs. He won the Heisman in his senior year throwing for 4,627 yards and 43 TD. This kid is a blue collar guy when it comes to his work ethic and he has the Browns believing he can turn the franchise around. After two and a half weeks 0n the bench, he received his shot to showcase his skills last Thursday night and didn't disappoint. He led the Browns to a dramatic comeback in his first action of the season as the offense exploded when he came into the game. He threw for 200 yards and lead three scoring drives in a little over a half. With Mayfield's incredible play in week 3, he should take the reigns for a team that added new offensive weapons and has a solid offensive line. He looks more than capable of finishing as a serviceable quarterback and his fantasy value will go through the roof.
4. Aaron Jones RB, GB 👀
Drafted by the Packers in 2017
Measurables/Combine Results
Height: 5'9" Weight: 208 lbs
Hand Size: 9 1/2 inches
40-yard Dash: 4.56 seconds Vertical Jump: 37 inches
Positives
Runs between the tackles
Good receiving skills
Good vision
Can push the pile
Runs with great effort and leg drive
Never giving up on the play
Outside and receiving
NEGATIVES
Durability issue
Consistently in trouble
Character issues
Lacks ideal top-end speed
Outlook
Aaron Jones has the explosive skills needed to be an effective runner in this league. He's tough to tackle, can stop on a dime, with the ability to juke and slash his way through opposing defenses. There's no denying that Jones is a gifted athlete - ranking in the top 84th percentile of all backs since 2000 in the broad jump, three-cone drill, and vertical jump. The only issue holding him back is the off the field trouble. Last season when given the opportunity he produced averaging 5.5 YAC before injuries hampered a promising rookie season. At this point, Jones is the best back in the Packers offense and it's not close. In his first action of the season, Jones carried six times for 46 yards. He kept moving the chains and, gaining yardage showing the Packers what they have in him. With performances like this he'll earn their trust in no time. The key for Jones is to improve his pass protection. Jones is a play-maker who doesn't need a ton of touches because he can break off big runs and gain chunks of yardage on any carry. His style fits Rodgers and McCarthy's quick-strike offense. If given the opportunity, Jones could explode in this offense like what Ty Montgomery did early last year before getting hurt.