8 Fantasy Players were watching
Every season new fantasy football heroes arrive on the scene from out of nowhere and the 2018 season will be no different. Pro Football Talk-Line has compiled a list of potential breakout players. Some we have watched breakout and some were watching and waiting on for the breakout. Not all of these players will make the pro bowl or be fantasy MVP candidates, but at some point, they might be a top waiver wire add or a simple addition to your team. Let's take a look at the list that we have compiled below
4 Players We Watched 👁
1. T.J. Yeldon RB, JAX 👁
Drafted by Jaguars in 2015
Measurables/Combine Results
Height: 6'0″ Weight: 226lbs
Hand Size: 9″
40-yard Dash: 4.52 seconds Vertical Jump: 36″
Positives
Excellent runner
Good quickness
Sharpe vision
Decent speed
Receiving abilities
Breaks tackles
Negatives
Injury prone
A ton of miles on his legs
Ball security
Outlook
Yeldon is a smooth runner similar to Le'Veon Bell. He bobs-and-weaves like poetry in motion, yet he's hard to tackle and when you do get your hands on him it's difficult to bring him down. After a promising start to his career, piling up over 1,000 total yards in his rookie year, the Jags spent a high first-round pick on new lead runner Leonard Fournette in 2017, relegating Yeldon to a pass-catching change of pace role. But for two years now Leonard Fournet has been plagued by foot and soft tissues injuries. The former first-round pick out of LSU re-injured his hamstring again in week 4 and he hasn't played a complete game yet this season. Over the first four weeks, Yeldon has been the glue for the run game. He has rushed for 153 yards while averaging 15 fantasy points per game. With Fournette's bad injury history, Yeldon might see a ton of action for a while. Add in the fact the Jaguars focused on the offensive line by adding new key pieces and that makes any starting running back in this system worth rostering.
2. Nyheim Hines RB, IND 👁
Drafted by the Colts in 2018
Measurables/Combine Results
Height: 5'8″ Weight: 198 lbs
Hand Size: 8 7/8″
40-yard Dash: 4.38 Vertical Jump: 35.5 "
Positives
Sprinter speed
Very Versatile
Extremely athletic
Explosive
Good stiff arm
Solid hands
Tough runner
Negatives
Small build
Bad field vision
Needs to improve run blocking
Outlook
Hines runs with an aggressiveness and force gashing teams for big gains in the air and on the ground. The Colts new secret weapon proved he can run between the tackles ranking 4th in the ACC for rushing yards with 1,113 in 2017. With that said, Hines will never be an every down back because of his size but he is a highly skilled dual threat out of the backfield. If used correctly he could produce like Alvin Kamara did for the Saints last season. Although Hines was an afterthought in the run game through the first 3 weeks, however, he exploded in week 4 catching 9 balls for 63 yards and 2 scores. The little satellite back could see in uptick in touches moving forward with Marlon Mack and T.Y. Hilton injured. If he continues to have big performances you can count on him becoming a fixture in the Colts up-tempo offense.
3. Dede Westbrook WR, JAX 👁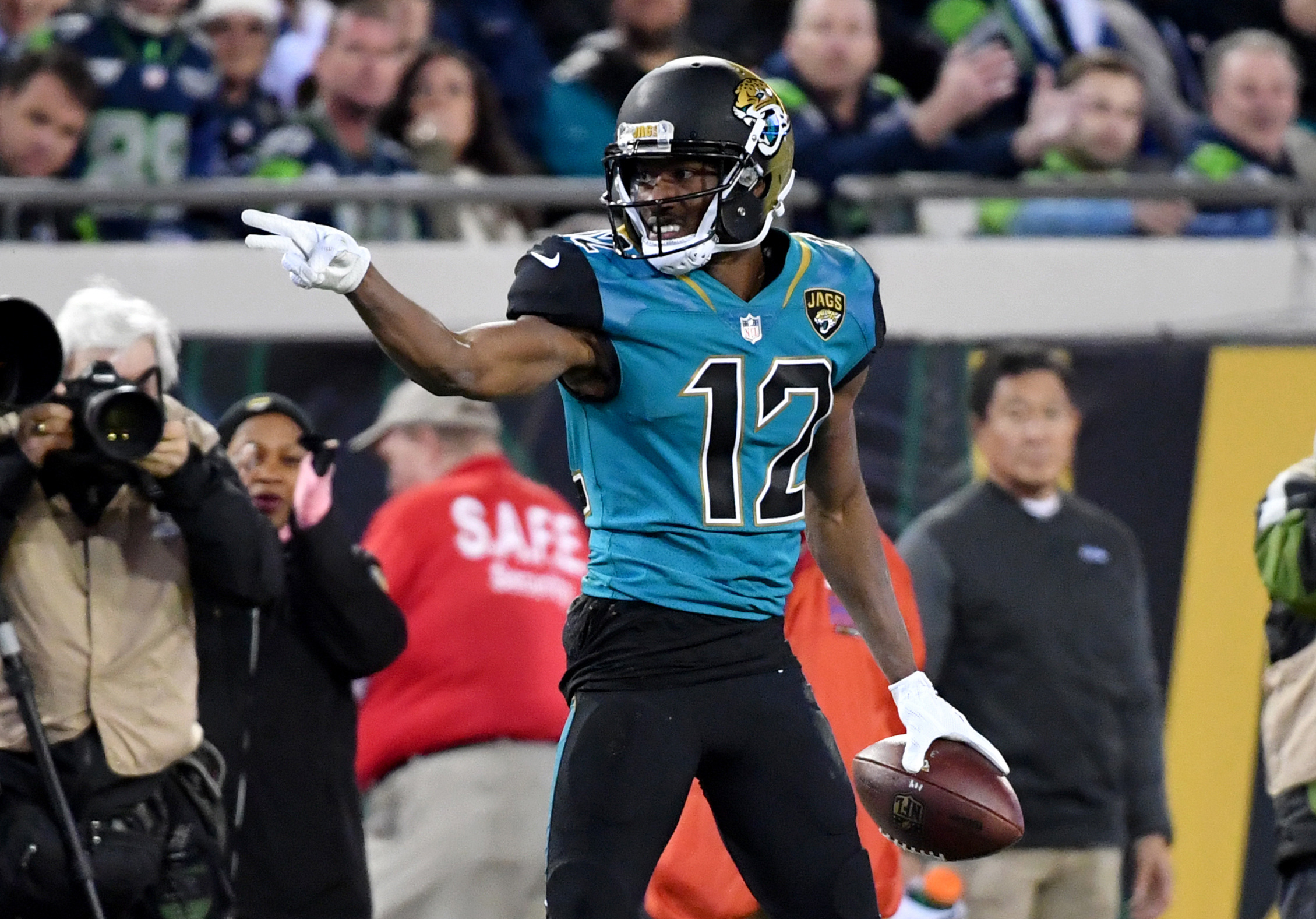 Drafted by Jaguars in 2017
Measurables/Combine Results
Height: 6′ Weight: 175 lbs
Hand Size: 9″
40-yard Dash: 4.34 seconds Vertical Jump: 34.5″
Positives
Very fast
Strong Hands
Joystick moves
Extremely competitive
Outstanding body control
Confident player
Sharpe route running skills
Negatives
Character issues
Gets out-bodied by defenders
Durability issues
Slim build
Outlook
Westbrook is a small receiver but he plays bigger than his size. Dede is the real deal with crisp route running, sticky hands, and he routinely beats defenders with his game-breaking speed. Dede can take one to the house on any given play he is extremely dangerous after the catch. Jacksonville needed someone to emerge as the leading receiver and after Dede's week 4 performance against the Jets, where he was targeted 13 times for 130 yards, I'd say he staked his claim. If the Jags coaching staff is smart and they will continue to manage Bortles' accuracy problems by peppering Dede in the slot with short quick passes using his play-making abilities to their benefit
4. Alshon Jeffery WR, PHI 👁
Drafted by the Bears in 2012
Measurables/Combine Results
Height: 6'3″ Weight: 215 lbs
Hand Size:10 1/4″
40-yard Dash: 4.48 seconds Vertical Jump: 37″
Strengths
Big target
Good leaping ability
Physical fights for the ball
Red-zone weapon
exceptional body control
Good route running
Plays through pain
Big hands
Catches everything
Negatives
Poor work ethic
Injury prone
Lacks top speed
Doesn't separate
Outlook
Alshon Jeffery is an elite wide receiver that uses his big body to make plays. He goes airborne and consistently snags anything in close range with his huge oven mitts. Once the ball is thrown up cornerbacks don't stand a chance against this total freak-of-nature. Although Jeffery had a down season last year only catching 57 balls for 789 he did score 9 times. The Eagles starting receiver had off-season shoulder surgery putting him on the shelf for the first 3 weeks of the season. In his return, he exploded snagging 8 balls for over 100 yards and a touchdown. Considering how loaded the Eagles offense is, defenses will have no choice but to play more honest giving Jeffery chances to feast on smaller corners. Jeffery will produce huge stats in this top 5 offense. I wouldn't be surprised if Jeffery outscores some bigger name receivers this season.
4 Players where watching
1. Quincy Enunwa WR, NYJ 👀
Drafted by the Jets in 2014
Measurables/Combine Results
Height: 6'2″ Weight: 225 lbs
Hand Size: 9 1/2″
40-yard Dash: 4.45 seconds Vertical Jump: N/A
Strengths
Physical
Hard worker
Tough
High motor
Extremely competitive
Negatives
Body catcher
Drops balls
Doesn't use speed effectively
Outlook
Enunwa is a fullback trapped in wide receivers body. He routinely drags defenders on his back and plays the game like Anquan Boldin but with more speed. Last year was a lost season for the Jets physical wideout because he didn't play a single snap in 2017. Enunwa was placed on injured reserve before the season started. In 2018 he has been Darnold's go-to receiver from the jump leading the team in targets with 37. If Enunwa continues to see targets at this clip he could be looking at 1,000 receiving yards this year. He's currently on pace the have 84 catches for 1,112 receiving yards.
2. Tyler Kroft TE, CIN 👀
Drafted by the Bengals in 2015
Measurables/Combine Result
Height: 6'5″ Weight: 246 lbs
Hand Size: 9 5/8″
40-yard Dash: 4.75 Seconds Vertical Jump: 34″
Positives
Above average athleticism
Quick release
Good speed
Strong hands
Smart player
Negatives
Limited catch radius
Body catcher
Robotic and runner
Outlook
Kroft is an underrated tight end with versatile abilities who can line up in the slot, catch over the middle, and block when needed. Last year after Eifert went down for the season, he caught 62 balls and scored 7 times. Now with the Bengals injury-prone starting tight end going down again, Kroft will have his number called to fill in once more this season. Kroft, now in his third season, could be even more productive than he was last year. Cincinnati's offense is a whole different animal in year two under Bill Lazor. The Bengal OC will play to the team's strengths and I expect Kroft to be used in the red zone a lot more easily matching his 7 touchdowns from last year.
3. Kenny Golladay, WR, DET 👀
Drafted by the Lions in 2017
Measurables/Combine Results:
Height: 6'4″ Weight: 218 lbs
Hand Size: 9 3/4″
40-yard Dash: 4.50 seconds Vertical Jump: 35.5″
Strengths
Tall with long arms
Wide catch radius
Tough mentality
High points the ball
Good speed
Separates well
Red-zone threat
Negatives
Route running needs improvement
Slim build
Outlook
Golladay is a quarterback's best friend as a player who out-jumps defenders and uses his reach to make impossibles catches. After an average rookie year, where he netted 48 catches for 477 yards, the Lions sophomore wide receiver is having a great start in 2018. He has accumulated 23 receptions for 330 yards. Targets are had to come by on the Detroit team with two studs in Golden Tate and  Marvin Jones starting over him. But Golladay has something no one else on the teams has and that's his height. His size should help him exploit one on one mismatches and pay off with red zone looks. With Stafford's strong arm leading an explosive Lions offense, Golladay is one to watch all season.
4. Sony Michel RB, NE 👀
Drafted by the Patriots in 2018
Measurables/Combine Results
Height: 5'11" Weight: 214 lbs
Hand Size: 9 1/8″
40-yard Dash: 4.54 seconds Vertical Jump: N/A
Positives
Muscle car build
Disciplined runner
Quick with his cuts
Good burst and acceleration
Breaks arm tackles
Good receiving skills
Good vision
Negatives
Tight Hips
Durability issue
Trip over blockers feet
Balance issues
Outlook
As a part-time player in college, Michel ran for 1,227 yards and averaged 7.9 yards per attempt. The Patriots who never draft running backs early selected Michel in the first round for a reason. Michel is a perfect fit in this system because of his strong running style, wiggle, good vision, and pass-catching abilities. After missing the entire preseason, Michel is finally healthy and just in time too. Because he has a prime opportunity with the New England backfield dropping like flies. The former Georgia product received 25 carries bulldozing his way to 112 yards in week 4. I expect Michel to dominate the goal line carries and short yardage plays. The Patriots new RB1 was a standout vs the Dolphins on Sunday and as Michel becomes more familiar with the system, performances, like he had in week 4, should become the new norm.