Strengths:
The first thing you notice with Quin on tape is how often he's in on tackles. Blanding has the will to be involved and doesn't mind lowering his shoulder or wrapping up when he needs to. For his size, Blanding has a good understanding of how to maneuver through trash and shed blocks to get to the ball carrier. When playing sideline to sideline he shows a consistent ability to take the right angles to get to the ball on time. When playing the centerfield role, he shows the ability to make plays with his range and athleticism. Blanding also showed his ball skills after hauling in 10 interceptions and 17 passes defended over four years at UVA. His versatility to play either safety position and even slide in and play a hybrid-linebacker role if need be will make him a top safety prospect come April.
Weaknesses:
When moving horizontally, Blanding showed few problems with taking angles to ball carriers, but I did see a few too many aggressive steps forward that would allow ball carriers to explode past him if he couldn't fill the hole after coming forward too aggressively. While I do think the coverage aspect of Blanding's game is a bit underrated, there is still room for improvements.
Giphy: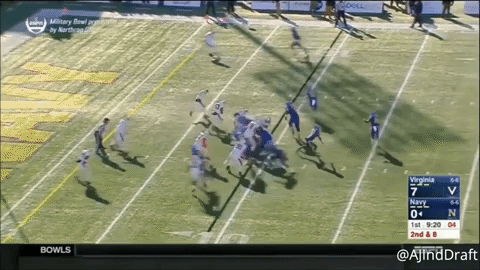 Pro Comparison:
Overall Review:
UVA played Quin Blanding extremely close to the line of scrimmage on a high percentage of snaps. I think him playing more of a centerfield role will only help him at the next level. When he has the time to react and read the field he is one of the best defensive backs in college football. Most of his struggles came when he didn't have much room to work with to change directions and make plays on the move. I believe Blanding has the ball skills and range to be able to play the free safety position but also has the size and nose for the ball carrier to play in the box as more of a run support guy. Like I mentioned above, Blanding's versatility will get him drafted in the top 100 if I had to take a guess here in February.
YouTube Highlights: